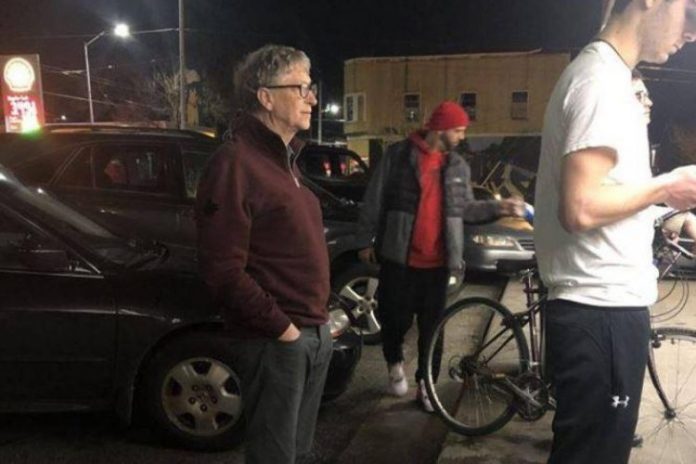 Over the weekends, pictures of Bill Gates, the richest man in the world popped up on the internet patiently waiting in a queue for his turn to get buy a burger from a local shop. The picture which was first uploaded on Facebook went viral on social media. Well, it is not someone like Bill Gates standing in a queue to buy a burger that matters to me but the rich lessons one has to learn from him.
In this article, I bring you 10 lessons to learn from Bills Gates attitude of queueing to buy a burger. When done reading, kindly share your views with us
10 Lessons From Bill Gates Queuing To Buy Food
Join the queue: Some people want to be treated more special than any other person because of their money but you have to learn to join the queues in life. The fact that you have money more than everybody does not mean that you are more important than everyone. There are queues in life, join them.
Learn to be a simple man regardless of your wealth. Bill Gates was not spotted wearing the most expensive of all clothing but in simple wear.
Don't take life too complex. Bill Gates was not spotted with about 10 security guards parading around him to create a scene
Don't pull the crowd to draw attention just because you alone are in town. In Africa, some rich businessmen and pastors will come in convoy
Don't force yourself to be a celebrity when you know you are not. Bill Gates doesn't see himself to as a celebrity and doesn't behave like those people. Learn to live your normal life and don't raise yourself up.
As you climb higher in life, you will realize that it is needless to be seeking unnecessary attention for nothing just be heard in the news.
Bill Gates did not pay the media and use crooked means to be popular but through hard work. Let your works speak for you and make the noise but not through your efforts.
When God blesses you and lifts you up, don't raise yourself above the level God has positioned you.
Don't look down on people and disrespect them because you have money today. Bill Gates had respect for even the youngest person over there in the shop and joined the queue. Everybody is important.
Be a good example to your followers but not a bad one. Whatever you do, people are watching and learning from you.
What are your views on the 10 lessons to learn from Bill Gates queueing to buy a burger from a local shop? Tell us your views by commenting in the comment box below.