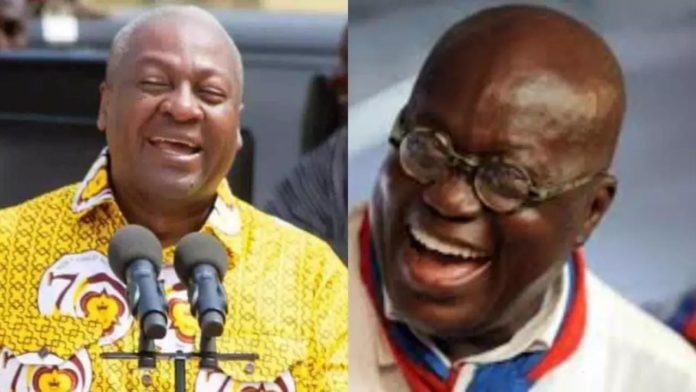 Cool down! Relax! The pressure is becoming too much. People's eyes are too red; they haven't had any sleep just listening and counting results. Now take a minute to laugh small.
Disclaimer: This is purely a joke created by the writer and blogger, Ernest K. Akorli so it should be treated as such.
10 Rib Cracking Jokes From Ghana's December 7 Elections
Accountant On Phone With Dr. Paa Kwasi Nduom
Accountant: Good Morning, Doc.
Dr. Nduom: Good Morning
Accountant: Please I've finished working on the Christmas Bonus, December Salaries and Next Year Salary increments.
Dr. Nduom: You what? Accountant, everything should be suspended for now.
Accountant: Oh, Sir! Why? You instructed me to prepare them.
Dr. Nduom: Did you hear of the single 1 vote project for the PPP after the elections?
Accountant: Yes, Sir, but not yet certified by the EC.
Dr. Nduom: I own over 75 companies with hundreds of workers nationwide and yet I got just one single vote in most of the Centers. What does that tell you?
Accountant: Oh, Sir, …..
Dr. Nduom: Oh, what? If my own workers will not think of me and massively vote for me then I have to suspend the Christmas bonus and next year salary increment for now.
Accountant: That will be a difficult thing to tell the workers, Sir.
Dr. Nduom: Is that a difficult thing than the humiliating defeat I'm going through?
Accountant: Sir, so what should I tell the workers?
Dr. Nduom: Tell them to go to whoever they voted for, for their Christmas bonuses, packages and next year salary increment.
Accountant: But Sir, ……
Dr. Nduom: Please don't disturb me, I'm calculating my total votes.
Accountant: Oh, but you should have told me to assist you with that, Sir.
Dr. Nduom: I don't need calculators and professionals to add single digit votes.
Mahama And His Wife
Lordina: My dear, did you hear the results from Circle, Kasoa, Kumasi and others?
Mahama: Yeah, not quite impressive though.
Lordina: It seems like the people want CHANGE but not the INTERCHANGE you built for them.
Mahama: Well, you can't judge too soon. Let's wait for all the results.
Lordina: Hmmmm. If you are not careful, you, Mahama, will cry mamaaaa.
J.J. Rawlings And His Wife
Konadu: The election results didn't go well at all.
Rawlings: Well, Ghana has decided.
Konadu: I'm disappointed. If all women had voted for the first woman to contest the presidential, I would have won.
Rawlings: Why should you be disappointed when you knew right from the beginning that you will never win?
Ayariga And His Wife
Anita: My Dear, can I ask you a question?
Ayariga: Why not!
Anita: You told me it was your childhood dream and desire to be president. You have contested and contested again and this time too, no show. Are you really sure of this dream?
Ayariga: My dear, don't worry. I still have more chance to contest. Even Ghana's Mugabe contested at age 72.
Anita: Do you think contesting the Presidential Elections is like writing Nov/Dec exams in Ghana?
Akuffo Addo & His Wife
Rebecca: My Dear, it seems this change thing will work this time.
Nana: The battle is the Lord's.
Rebecca: But all the scaring results from the Volta Region haven't come yet
Nana: Still, the battle is the Lord's. That is just one region
Rebecca: You sit there and be confident. That is what happened during the last elections and you turned our bedroom into a museum and always looking through pink sheets.
Nana: Please bring me more Kalyppo. I need something to quench my thirst.
Rebecca: Eeeiii! Kalyppo die3, wo p3 papa!
Akua Donkor
Journalist: Madam, so how do you see this year's general elections?
Akua Donkor: We all saw what happened in Ghana about the ERECTIONS so why are you asking of what I alone saw?
Independent Candidate & Wife
Jake: This year's election didn't favour the smaller political parties at all.
Wife: But you knew that none of theme was expecting a win.
Jake: That is true anyway.
Wife: But please listen to my advice next time.
Jake: Why?
Wife: Anytime my friends call me Independent First Lady, I get confused. I do not know whether they are happy for me or just mocking at me.
Edward Mahama & His Wife
Wife: I'm surprised you're still awake watching Tv for the results. Won't you sleep?
Eddie: I'm not necessarily following the results. Thinking about my retirement as well.
Wife: What is it about your retirement by this time?
Eddie: Do you think it's easy to go on retirement with consistent records of failure?
Warning!! Warning!!
Don't go to work late and tease your boss especially if he is in the losing team. You could risk your job and get fired.
Blessed Are The Politicians
Blessed are the politicians who borrowed more money from their bankers and people for election campaigns and vote buying but lost at the end for they shall not enjoy the Christmas and New Year because debtors and bankers will come after them.
Did you enjoy the jokes? Which one was your best? Comment and tell us. Kindly share the jokes with friends to release their stress.
Before you leave, enjoy this joke: The Funny Old Woman Giving A Pastor Direction, You Can't Stop Laughingt