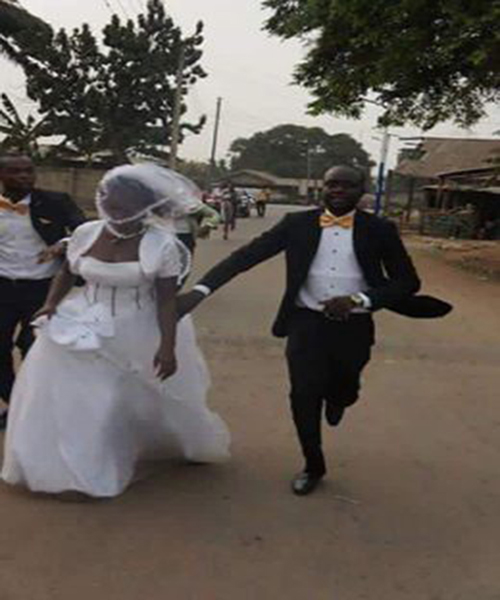 Weddings may come with happiness, joy and real laughter among friends and loved ones who come together to celebrate that special day with you but sometimes, it may turn out to be very sour and littered with unexpected shocking and bitter memories that one could not ever wish for him or herself. Such was the story of a shocked and an emotionally stricken bride.
The story of was told of a bride in the picture who had no option than to run away at the altar upon discovering that her husband to-be was not actually a worker at an "oil company" as he claimed to be during the days of courting. The sad incident happened at Eket, Akwa Ibom State in Nigeria. It was allegedly said that the groom even sent the bride photos of him working at Chevron, an oil company.
Unfortunately, the disappointed bride run out of the church upon discovering that her groom was not a worker of Chrevron  as he claimed to be.
The sad incidence has attracted many wild reactions on social media and on the internet with dividing reactions into two schools of thought. One school of thought believed that the bride should have kept quiet and allowed the wedding to continue and settle the matter later when they got to the house. The other school of thought believed and endorsed the action of the bride for calling it a quit and not walk into a marriage with the foundation laid in total lies and deceit.
The question is: will you continue to marry your partner if you discover so many shocking revelations about him on the wedding day? Well, one has to use maturity in handling some of these questions and need to thoughtfully and prayerfully consider every decision. This is one of the main reasons why one has to consult the pastor or marriage counselor to assist you.