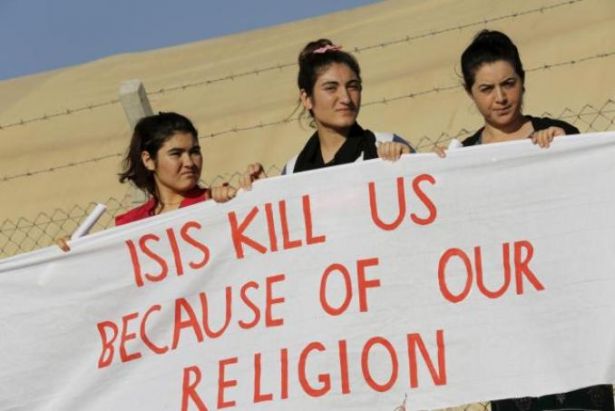 Nineteen women were burned alive inside an iron cage by the Islamic State terror group in the Iraqi city of Mosul after they refused to have sex with the extremists.
Eyewitnesses said that the women, all of whom were Yazidis, were killed in front of hundreds of spectators, Ynetnews reported.
Yazidis, Christians, and other religious minorities have been enslaved by the thousands across Iraq and Syria, with IS forcing women and girls to marry jihadists and use them as sex slaves.
Abdullah al-Mala, a witness to the murder of the 19 women, said they "were punished because they refused to have sex with ISIS militants."
ARA News shared further details of the murders, and revealed that the incident took place in Mosul, one of the captured cities in Iraq.
Another eyewitness said: "The 19 girls were burned to death, while hundreds of people were watching. Nobody could do anything to save them from the brutal punishment."
The U.S., U.N., and several other Western agencies have declared the mass slaughter and enslavement of Yazidis and other minorities at the hands of IS a "genocide," and have responded by bombing terror targets in Syria.
It wasn't until March that Secretary of State John Kerry finally announced that the State Department would acknowledge IS' atrocities against Christians as a genocide.
Kerry's announcement was met with scrutiny due to the fact that the agency took so long to make the genocide designation, while the European Union made the designation in early February.
Estimates say that as many as 3,000 Yazidi girls remain in IS captivity.
What is more, Kurdish forces have discovered a number of mass graves in liberated territory, such as the district of Shingal in the northern Iraqi province of Nineveh, finding hundreds of Yazidis killed and buried by ISIS.
Several persecution watchdog groups, including Human Rights Watch, have said that the Yazidis are in urgent need of help.
"The longer they are held by ISIS, the more horrific life becomes for Yezidi women, bought and sold, brutally raped, their children torn from them," said Skye Wheeler, a women's rights emergencies researcher at Human Rights Watch.
"The abuses against Yezidi women and girls documented by Human Rights Watch, including the practice of abducting women and girls and forcibly converting them to Islam and/or forcibly marrying them to ISIS members, may be part of a genocide against Yezidis," the organization has added.
IS has become infamous for using a variety of different execution methods, and has been known to burn prisoners alive on a number of occasions. Back in April, the extremists burned alive 15 people trying to escape the besieged Iraqi city of Fallujah.
A source told ARA at the time that people were fleeing because conditions inside the city had become "unbearable."
"Fallujah has been under suffocating blockade for several months. People endure severe shortage of basic materials, amid deteriorating living conditions," the source explained.
Beside raping and forcing girls into marriage, IS has reportedly also been selling sex slaves in markets in Iraq and Syria as well, as online through social media platforms like Facebook.
The Washington-based terror monitoring organization Middle East Media Research Institute's Jihad and Terrorism Threat Monitor Project noted in a report last week that Facebook profiles of known IS militants have been advertising captured women with an asking price of $8,000.
"To all the bros thinking about buying a slave, this one is $8,000," the Facebook page in question suggests. "I advise u guys to get married then come dawlah [IS' territory in Iraq and Syria.]"
Source: www.christianpost.com