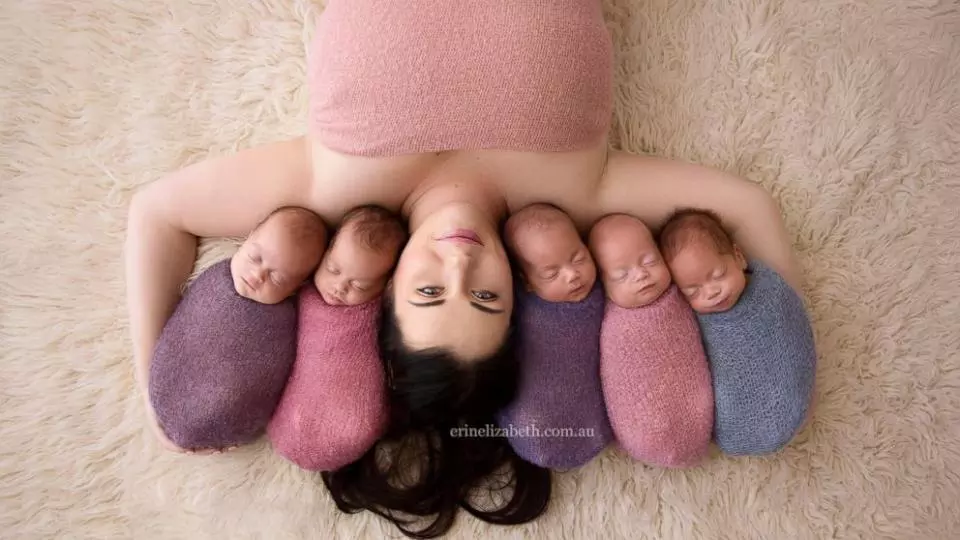 None of the babies weighed less than 2.5 pounds – Tucci now has eight children with her husband, Vaughn and none of them is up to nine years
Her grandmother says she has started saving money or a new car for the family Pictures have emerged of a 26-year-old woman who delivered five babies (four boys and one girl) in one day.
The woman identified as Mom Kim Tucci is an Australian and was pictured with her five babies namely; Penelope, Beatrix, Allie, Tiffany and Keith.
The pictures, according to Yahoo News, were released after photographer Erin Elizabeth, shared them on Facebook earlier this month. Tucci wrote: "We are very happy to announce the birth of our 5 beautiful babies, born on the 28th of January and just shy of 30 weeks" just one day after their arrival.
"We would like to say a big thank you to Dr. Jan Dickinson for looking after me and the babies with such love and care … The babies and I are both doing very well, thank you for all your well wishes and support," she added.
The babies are: Tiffany at 1,170 grams (about 2.5 pounds), Penelope at 1,160 g (about 2.5 pounds), Beatrix at 1,210 g (about 2.6 pounds), Allie at 1,200 g (about 2.6 pounds) and Keith at 1,269 g (about 2.7 pounds). Reports say the woman and her husband, Vaughn now have eight children, none of which is older than nine years.
Tucci's grandmother Denise Waddell wrote on a GoFundMe that she has started to raise money for a new family car. Erin Elizabeth also snapped maternity photos of the quintuplets' mom-to-be earlier this year, and Tucci had to hire her a second time for a newborn shoot, which Erin shared on Facebook May 6.
Erin wrote on her Facebook page: "Months later, here she is with her gorgeous little babies…each one perfect and healthy as can be. "Kim endured an extremely demanding pregnancy, never wavering in her strength and determination to bring these babies safely into the world. She is an inspiration, and it was an honor to photograph her journey."
Sournce: erinelizabeth.com.au