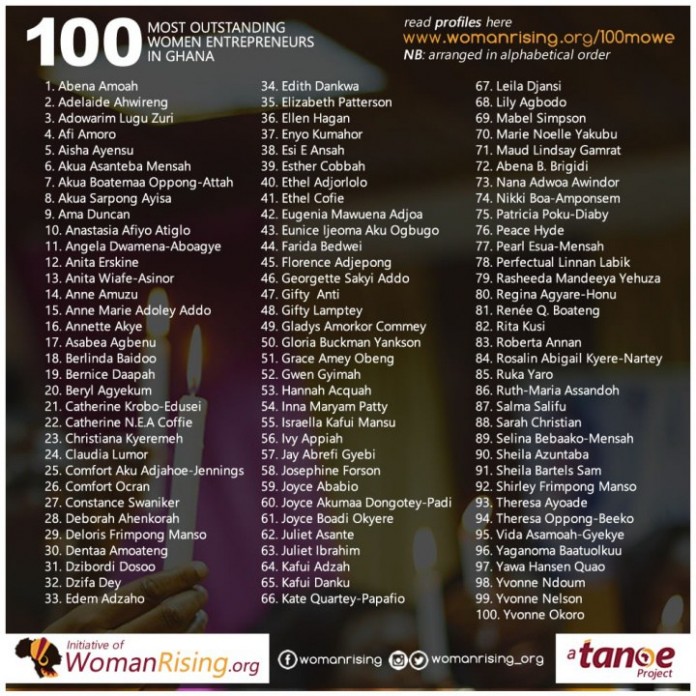 Globally, women have been and continue to be innovative, enterprising and industrious across various sectors in business. The influence and impact of women entrepreneurs in the transformation of economies of both developed and developing countries cannot be over emphasized.
From startups to small and medium sized businesses to large corporations, women have played and continue to play significant roles in creating jobs, introducing innovative solutions to critical challenges, producing relevant products and services and creating wealth.
In Sub-Saharan Africa and particularly in Ghana, statistically, there are more women entrepreneurs and women-run businesses than their male counterparts. Despite the diverse responsibilities and challenges women face, their tenacity, resilience, commitment, passion, ingenuity, vision and exploits are worth recognizing and celebrating.
In line with that, WomanRising, a subsidiary of The African Network of Entrepreneurs (TANOE) launched the search for the 100 Most Outstanding Women Entrepreneurs in Ghana (100MOWE) to honour, celebrate and generate public recognition of the achievements and contributions of 100 of the most inspiring and influential women in business in Ghana. The 100MOWE list captures women entrepreneurs from various sectors including Technology, Education, Food processing, Health, Real Estate, Media, Fashion, Beauty & Cosmetics, Consulting, Social Enterprise and so on.
In a conversation with Ekow Mensah, the founder of WomanRising and CEO of TANOE, he iterated the importance of Women Entrepreneurs and the significant role they play in the development of economies and solving socio-economic issues. He said that the introduction of the WomanRising 100 Most Outstanding Women Entrepreneurs list is aimed at encouraging and supporting women entrepreneurs in their pursuit of building globally competitive businesses, growing the private sector and the economy of Ghana. He congratulated all the women entrepreneurs that made it on the 1st Edition of the WomanRising 100MOWE List.
Below is the List of WomanRising 100 Most Outstanding Women Entrepreneurs in Ghana arranged in alphabetical order.
Abena Amoah || Baobab Advisors
Abena B. Brigidi || Nimed Capital
Adelaide Ahwireng || Fio Enterprise Ltd
Adowarim Lugu Zuri || Wazuri Entreprise
Afi Amoro || JANDEL Event Planners and Florist
Aisha Ayensu || Christie Brown
Akua Asanteba Mensah || Sirmax Restaurant
Akua Boatemaa Oppong-Attah || Akiboat Impressions
Akua Sarpong Ayisa || Unique Floral Centre
Ama Duncan || Fabulous Woman Network
Anastasia Afiyo Atiglo || Afiyo Creations
Angela Dwamena-Aboagye || Ark Foundation
Anita Erskine || BrandWoman Africa
Anita Wiafe-Asinor || OML Africa
Anne Amuzu || Nandi Mobile
Anne Marie Adoley Addo || Jil Boutique
Annette Akye || Beautique GH
Asabea Agbenu || Windrow Consult
Berlinda Baidoo || B2 Models
Bernice Daapah || Ghana Bamboo Bikes
Beryl Agyekum || Echo House Ghana
Catherine Krobo-Edusei || Eden Tree Ltd
Catherine N.E.A Coffie || Anowah Group
Christiana Kyeremeh || Principal Capital Microfinance Limited
Claudia Lumor || Glitz Africa
Comfort Aku Adjahoe-Jennings || Ele Agbe Co Ltd
Comfort Ocran || Legacy & Legacy
Constance Swaniker || Accents & Arts
Deborah Ahenkorah || Golden Baobab
Deloris Frimpong Manso || Excellencia Ghana Limited
Dentaa Amoateng || Ghana Uk Based Awards
Dzibordi Dosoo || Allure Africa
Dzifa Dey || The Rheumatology Initiative
Edem Adzaho || Spec Consult
Edith Dankwa || Business & Financial Times Ltd
Elizabeth Patterson || Girls Education Initiative Ghana
Ellen Hagan || L'aine Services
Enyo Kumahor || Cobalt Partners
Esi E Ansah || Axis Human Capital
Esther Cobbah || Stratcomm Africa
Ethel Adjorlolo Marfo || Tod-Teen Republic
Ethel Cofie || Edel Technology Consult
Eugenia Mawuena Adjoa || Young Educators Foundation
Eunice Ijeoma Aku Ogbugo || Eugo Terrano
Farida Bedwei || Logiciel Ltd
Florence Adjepong || Alpha Beta Educational Centre
Georgette Sakyi Addo || Georgette Barnes Limited
Gifty Anti || GDA Concepts
Gifty Lamptey || Sidalco Ghana
Gladys Amorkor Commey || All Pure Nature
Gloria Buckman Yankson || Plantit Ghana
Grace Amey Obeng || FC Group
Gwen Gyimah || Hair Senta
Hannah Acquah || The Knowledge Channel Africa
Inna Maryam Patty || Exclusive Events Company Limited
Israella Kafui Mansu || Mansuki Ghana Limited
Ivy Appiah || Tiwajo Industry Limited
Jay Abrefi Gyebi || Mukase Chic
Josephine Forson || Tekura
Joyce Ababio || Joyce Ababio College of Creative Design
Joyce Akumaa Dongotey-Padi || Mama Zimbi Foundation
Joyce Boadi Okyere || Posky Plus Stationery And Supplies
Juliet Asante || Eagle Production Ltd
Juliet Ibrahim || Juliet Ibrahim Foundation
Kafui Adzah || Cookhouse
Kafui Danku || ABC Pictures
Kate Quartey-Papafio || Reroy Cables Limited
Leila Djansi || Turning Point Pictures
Lily Agbodo || Amazing Love Schools
Mabel Simpson || Msimps
Marie Noelle Yakubu || Marie Noalle's Spa
Maud Lindsay Gamrat || Atlantic Catering and Logistics Limited
Nana Adwoa Awindor || Obaapa Development Foundation
Nikki Boa-Amponsem || 2nd Image Hair and Beauty Therapy Academy
Patricia Poku-Diaby || Plot Enterprise Ghana
Peace Hyde || Aim Higher Africa
Pearl Esua-Mensah || Feniks Limited
Perfectual Linnan Labik || Roots By Linnan
Rasheeda Mandeeya Yehuza || Nasara Tech
Regina Agyare-Honu || Soronko Solutions
Renée Q. Boateng || ReneeQ 
Rita Kusi || Kusi Consulting
Roberta Annan || Roberta Annan Consulting
Rosalin Abigail Kyere-Nartey || Rosak Consult
Ruka Yaro || Jamilullah Farm Enterprise
Ruth-Maria Assandoh || AKILA GH
Salma Salifu || Dignity DTRT Apparel
Sarah Christian || Sarah Christian
Selina Bebaako-Mensah || Selina Beb
Sheila Azuntaba || Innovative Microfinance Ltd
Sheila Bartels Sam || InCharge Global
Shirley Frimpong Manso || Sparrow Productions
Theresa Ayoade || Charterhouse
Theresa Oppong-Beeko || Manet Group of Companies
Vida Asamoah-Gyekye || Hillview Montessori School
Yaganoma Baatuolkuu || Wanjo Foods
Yawa Hansen Quao || Leading Ladies Network
Yvonne Ndoum || Groupe Ndoum
Yvonne Nelson || Yvonne Nelson Productions
Yvonne Okoro || Desamour Company Ltd
WomanRising is passionate about equipping women to succeed particularly in business and generally in life through the provision of relevant information, capacity building through training and coaching, branding and productive networking support and entrepreneurship development. For Inquiries email womanrising@tanoe.org or visitwww.womanrising.org
Source: Prince Akpah