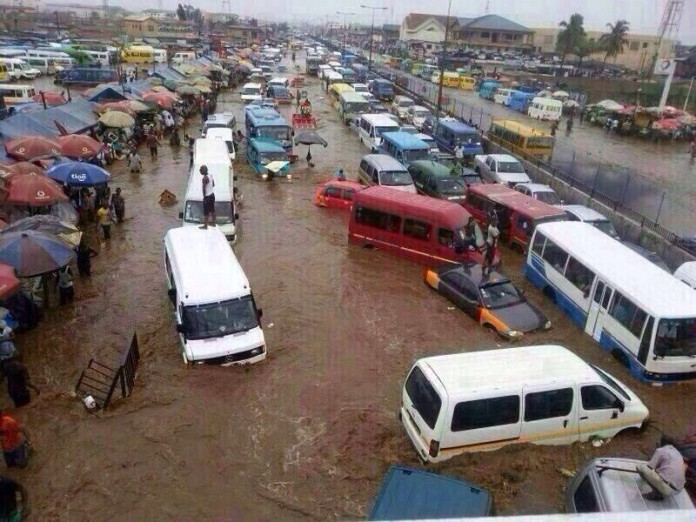 Each year, residents of Accra are reminded of the terrifying nature of floods that come with so many gory stories whenever the country experiences any form of downpour. Sadly, several parts of the capital cities in Ghana remain inaccessible to commuters and drivers during torrential rains, causing much distress and panic.
The floods, which have become recurring in nature, are characterized with dizzy images of loss of properties, submerged vehicles, stranded hawkers and pedestrians and sometimes, loss of precious lives.
For the past few years, the whole nation is thrown into a state of worry any time there is a major downpour in the country. The question is: do we learn at all as a nation? What is wrong and why can't the situation be remedied?
Well, let's talk about the 10 things every Ghanaian should know about the Accra floods. Kindly add your voice by commenting when done reading.
10 Things Every Ghanaian Should Know About the Accra Floods
Bad Leadership
Are there leaders at all in this country? This has been one of the frequently asked questions in the wake of this annual flood disaster that hits Ghanaians. According to John C. Maxwell, "everything rises and falls on leadership".
Surprisingly, our country Ghana boasts of many engineers and town and country planning officers but we wonder whether there are leaders at all in this country.
Remember that "Generational leaders respond to a calling and have a deep sense of purpose. They start new paths, break old patterns, set new standards and become a pattern for successors" says Pastor Mensa Otabil.
Let us not leave porous ambitions, poor standards and weak foundations to the next generation. That is a disaster but not a legacy.
Stubborn and lawless People
We live in a country where laws are only written in books and never enforced hence the citizenry are lawless. People deliberately and obstinately build houses in water ways and are hit by the floods any time it rains. There are garbage containers positioned in vantage points but people decide to throw rubbish in the gutters and other water bodies. The aftermaths thereof are chocked gutters causing floods.
Laws and Systems Don't Work
The whole problem starts from our systems that aren't working. Just listen to radio, watch TV and read the papers. You will hear the experts trumpeting the supposed solutions to these annual flood problems but they are merely talk shows where people speak big grammar and do little.
God Only Sends the Rains, We Cause The Floods
We thank God for blessing us with rains each year. A country like Ghana largely depends on the natural rain for hydroelectric power generation, agricultural purposes and other uses. God doesn't send the floods to destroy us; He only blesses us with rains but our own bad attitudes cause the floods.
Properties Destroyed, Lives Lost and Families Displayed
June 3, 2015 seemed to have taken us aback. People wept, lamented and talked about the loss of precious lives, the charred debris of destroyed properties reminded us to take action and the displayed families could not be helped that much. After a few months, Ghanaians seemed to have forgotten about the terrible incidence and normal activities were going on in the capital till another flood hit us again. So long as temporary solutions (or no solutions at all) are our choices in tackling these issues, we should not expect any prophet to prophesy that more terrible disasters await us as a nation.
It's Time To Insult Again
Any disaster in the country is license for people to tongue-lash the leadership of this country for being irresponsible and not proactive. The leadership in turn sometimes rain insults on the populace for being careless and lawless. The point is, insults do not bring solutions. It is rather pragmatic efforts that do.
Big Talk Shows But No Action Is Taken
Oh yes. It is time for panel discussions. All the engineers and experts in the country come out of their hideouts during times of disaster and they give wonderful expert views about the situation and the kind of solutions we need. Unfortunately, most of these end up being "talk shops" and mere talk shows. They just end in the studios and never realized on the field.
Some People Are Waiting To Make Fortunes From Relief Items
Oh yes! The true philanthropists, public figures, celebrities and humanitarians will show up and donate big amounts of money and items to the affected victims. Unfortunately, some of these items will end up benefiting only a few people who were not affected in any way.
The Story Won't Change Until We Change
The saddest aspect is that, the gory stories won't change until we change our attitudes and take actions. Some people are good are spotting problems, offer excellent speeches, suggestions and condolence messages but make no efforts to remedy the problem. Let's walk the talk.
Get Ready For Another Disaster Next Year
2017 will soon come again.
2018 and more years will come again.
The floods will come again.
More people will perish again.
Properties and businesses will be lost again.
A lot of families will be displaced again.
All because Ghanaians will forget that the rains will come again.
And the rains will bring another flood again.
And once again, we forget to take actions for solutions again.
Let us stop hoping and coping with the situation as a nation and starting thinking and taking actions now. Yes! It is actions that bring desired results but not hopes without corresponding action.
Aha, lest I forget. Tell the Canadian who bet $10,000 on the Accra floods to bet $1bn this time and he will surely win because we shall sit down and watch the floods come again.
Did I miss anything and not write about it? Tell us by commenting in the comment box.