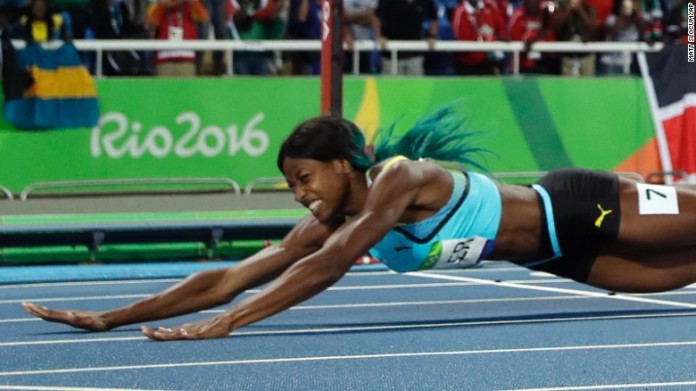 The Bahamas born, Shaunae Miller dived across the finish line to deny Allyson Felix a fifth Olympic gold medal in the thrilling erstwhile women's 400 – meter final at Rio 2016. She plunged over the finishing line to beat Felix, the world champion, into second place ahead of Jamaica's Shericka Jackson in third place.
Miller's dive stirred some wild controversies on social media and on the internet. Former Oympian, Michael Johnson tweeted: "Shaunae Miller's dive was to recover from falling. A sprinter knows the quickest way across the line and is a well-timed lean. Trust me on that".
Despite the controversies surrounding Miller's diving and robbing the world champion of the gold medal, there are some lessons to be learnt from the story.
7 Lessons To Learn From Shaunae Miller's Diving To Win Gold Medal
Stay Focused Even When Falling In Life
In what seemed like Miller was falling on her truck, she kept her focus and never veered off her truck. Falling in a race is normal but you have to stay focused on the finishing line. Some people give up too early in life. The fact that you have fallen does not mean you cannot finish the race and emerge as the winner.
Sometimes, The Way To The Top Is Down
Life is full of so many ups and downs. Ironically, sometimes the only way to get to the top is to go down in life first. This is why many people get discouraged and cannot stand the disgrace and failure that stare them in the face looking at how far they had come. Many people were broken hearted, disappointed, abused, used, became a failure and declared practically bankrupt and useless before they rose back to fame.
Your failure in life is meant to develop a tough skin for you to handle future hard times so that you will not be crushed down by any storm in life.
Change Your Strategy When Failure Stares In The Face
Do not be stuck in life when failure tries to rob you of the gold medal that awaits your victory. You have to be a strategist. Have multiple action plans in life. What are the plans that you have in mind and on paper to bounce back when failure bumps into you? Always do well to have a backup plan.
Timing Is Important In Winning Your Game
Miller's dive would have amounted to nothing if she had dived at the wrong place. It would have been a wasted effort which would have attracted public ridicule and serious insults.
Determination Can Turn Your Disgrace Into Grace
It is very difficult and painful to lose at the finishing line after all the struggles in life. Miller's story depicts people who mess up, fall in life and lose opportunities when they almost about to experience a major breakthrough in life. Your determination can turn your disgrace into grace.
Never Allow The Big Names To Scare And Rob You
Isn't it sometimes scaring and worrying to compete in the same game with the likes of Usain Bolt and other world champions? In the case of Shaunae Miller, she was competing with the world title holder, Allyson Felix and orher competitors, but she decided not to be scared with their fame and records.
Never Accept Failure
Shaunae Miller did not accept failure when it stared her in the face. She decided to see victory and win the golden medal. Life will present you with opportunities, failures, disgrace, pains and many worse things. The truth of the matter is this: it is what you accept that remains in your life. Never accept failure and never stop pressing onto your goals.
Are there more lessons to learn from Shaunae Miller's diving to win the gold medal?