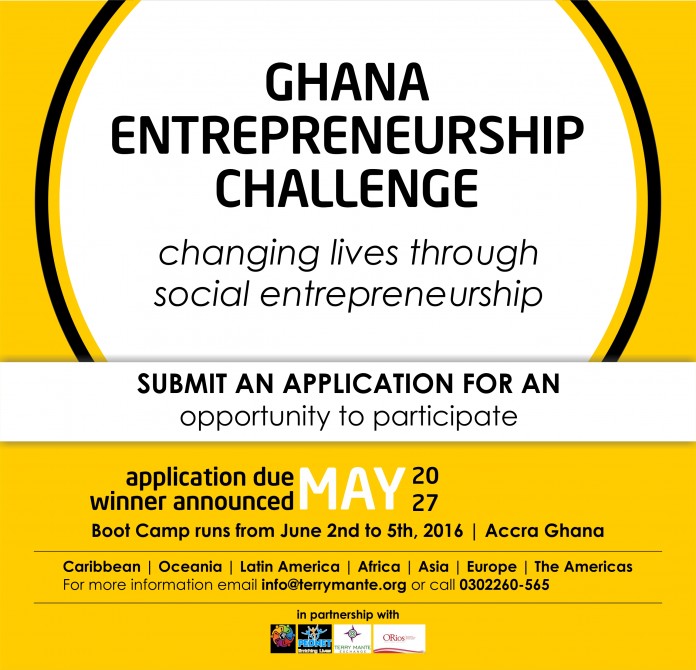 Global Leadership Coalition in collaboration with Orios Group, PEDNET and Terry Mante Exchange presents the Ghana Entrepreneurship Challenge.
The Coalition requests proposals from young people between 18 and 29 years with viable ideas in agriculture, climate change, sustainable energy, education, health, or entertainment to submit their ideas for an opportunity to learn transformational leadership skills, build strong networks and participate in a UN side event.
Applications will be due on the 20th of May 2016 – Winners will be announced on the 27th of May 2016, followed by a Boot Camp to train the Winners from June 2nd to 5th, 2016
 for the final pitch session.
PROCESS
Step 1: Proposal Application Submission
•       View program at this Website
• Fill out the application form. Please Click Here
•       Confirm application by paying GHC 38.30 via mobile money number 024 982 7575
Step 2: Entrepreneurial Boot Camp – 25 quarter finalists will attend a workshop in Accra.
Step 3: Internship – 10 semi-finalists to be mentored by professionals for 4 months.
Step 4: International Showcase – 2 finalists showcase at a United Nations side event.
BENEFITS
•       Learn while doing and grow your idea into a launch-able and sustainable business.
•       Acquire transformational leadership, innovation and entrepreneurial skills.
•       Network and engage with peers, mentors, local and international leaders.
ELIGIBILITY
•       Have a business idea in agriculture, climate change and sustainable energy, education, health, or entertainment. Women and minority-focused enterprises are encouraged to apply.
•       Able to commit to participate in the entire program including the 4-day boot camp, 50 hours of mentorship and training, and the necessary hours for successful project implementation.
•       2 Winners will be selected to travel to NYC to present at a UN site event.
•       Be between the ages of 18 and 29, have completed your secondary education, and be either currently enrolled or a graduate of University, College or Technical Training School.
•       Be able to pay a US $10 or Cedi 38.30 application fee and to cover daily transportation costs and arrive on time for the boot camp.
•       Be fluent in English and have access to a computer and the internet on a regular basis.
All who are interested should apply to get a chance to scale their Business Ideas. The future is here.
The mission of Global Leadership Coalition is to bring transformation opportunities to leaders in the Caribbean, Oceania, Latin America, Africa and elsewhere. The Coalition empowers leaders to transform their communities and to see greatness in others and themselves.
Signed,
John Armah
Co-founder and CEO, Orios Group
054 188 8877
Terry Mante
CEO, PEDNET
024 982 7575