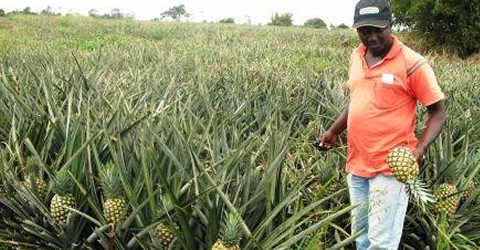 One day, a poor old farmer asked his son to escort him to the farm. He was affectionately called Old Kimpo. After one hour of going through the farm, they realized that all their food crops had not yet matured and reached the stage of harvest. Unfortunately, there was no food in the house for the family to eat that day.
Old Kimpo was very disturbed. Sadly, he had no money to buy food for the family. His creditors had warned him not to come and credit more food items until he defrayed all his old bills.
Poor Old Kimpo sat on the floor for a long time thinking very hard of where to get some food to eat. As he thought, he saw his neighbour's farm just opposite his full of matured food crops.
After a while, he said to his son: "Peter, we have nothing to eat in the house. We have been hungry for long and our energy is almost gone. I am going to pick some few food items from my neighbour's farm. Please stand here and quickly alert me by throwing a stone around my direction when you see anyone approaching".
Peter seemed not happy with his father's suggestion knowing very well that he was going to steal. How could he help his father to steal?
Old Kimpo walked quickly to his neighbour's farm and as he was about to cut and harvest the first plantain, a stone flew his direction with high speed. He immediately squatted in the farm to prevent being noticed if anyone was approaching.
"Is anyone approaching?" he asked Peter amidst fear.
"No, daddy", he replied. "It was a mistake, dad".
Old Kimpo wanted to quickly try his luck this time but two stones were already thrown around his direction.
"Is anyone coming to the farm?" he asked his son.
"No daddy", Peter replied.
"If no then why throw the stones", he asked fuming with anger.
"There is no one coming, dad but it seems someone is carefully watching us in the face", Peter replied.
"Who is watching us?" Old Kimpo asked with a quivering voice thinking that he was caught. "Tell me, who is watching us?"
Peter remained quiet for some seconds and pointed to the Heavens. His father repeated the question several times and wanted to be sure who was watching them.
Peter replied, "Dad, there is no one watching us but I thinking God is sitting up there and watching everything we are doing".
Those words from Peter, a teenager, shot through his father's heart at once and he felt ashamed. He immediately left his neighbour's farm and joined his son.
"I'm sorry, son", Old Kimpo said. "And thanks for not helping me to steal. You really took your Sunday School lessons very serious. I haven't done this before and thank God you came with me".
As soon as Old Kimpo apologized to his son, the neighbour emerged out of his farm from nowhere. His presence alone scared Old Kimpo and son, Peter.
"I have been hiding here and watching everything that happened", the neighbour said. "I realized that people have been stealing from my farm so I decided to hide and catch the thieves myself. I have seen all you did today in your farm and heard all that you have said".
The neighbour continued: "I am touched because of the attitude of your son for not helping you to steal and take away what does not belong to you", he added and Old Kimpo really felt ashamed and started apologizing immediately for entering his neighbour's farm to steal.
"Don't worry, Old Kimpo", the neighbour said. "I have given you the permission. Go to my farm and take what you think can feed the family for one month. I am sure your crops will be matured very soon. In case of anything, don't hesitate to call me", he added and led Old Kimpo and his son to the farm.
Tears streamed down the eyes of Old Kimpo and his son as they carried two big baskets of food and other sacks full of vegetables.
7 Lessons From The Story:
In your toughest and cash trapped moments, be careful what you do
Never help and encourage anyone to steal or do the wrong thing.
Don't think you are smart if no one sees the evil that you have done. You have no idea who is watching you. Remember that God sees everything you are doing.
Depend and trust God in both bad and good times. He will surely supply your needs.
Like Old Kimpo, apologize when you go wrong. Do not defend the wrong thing.
Like Little Peter, do not help someone to steal or do evil regardless of your age. Your age doesn't necessarily matter. Do not connive and condone with evil doers.
Like Old Kimpo, do not teach the younger ones corrupt and evil means of getting what they want in life. They will grow up with such bad attitudes.