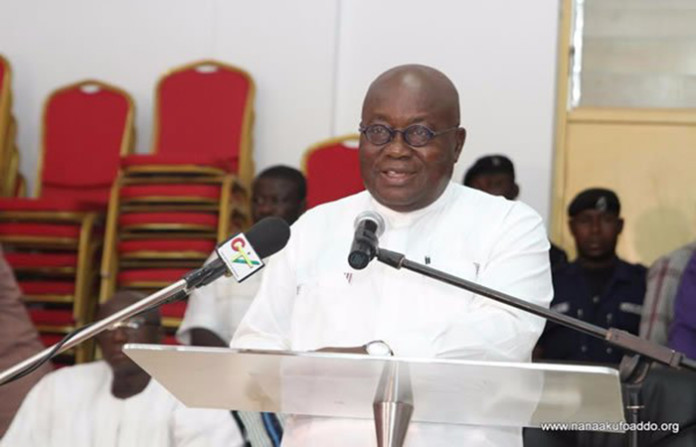 Top 17 Things Ghanaians Expect Nana Addo To Say As President On 7th January
Ghana's President Elect, Nana Addo Dankwa Akufo-Addo will be inaugurated tomorrow, 7th January, 2017. Before his election victory, Nana Addo continually hammered and drummed home some key things which will run through his administration.
We have listed a few of the things Ghanaians will expect Nana Addo to say in his inaugural speech as President of the Republic of Ghana.
Top 17 Things Ghanaians Expect Nana Addo To Say As President On 7th January
One District, One Factory
This was the main message of his election campaign which turned out to be a mockery term because the opposition party thought the vision was unattainable but it finally wormed its way into the hearts of Ghanaians for a massive vote.
President to all Ghanaians And Not Only NPP
His Excellency, Nana Addo, has continually assured Ghanaians that he was not elected as president for the New Patriotic Party but as a president and father to all Ghanaians regardless of one's political affiliations.
No Witch Hunting But Hunt For Opportunities, Growth And Development
The former Minister of Transport, Hon. Mrs. Dzifa Attivor once publicly declared that most of the NDC folks will be in prison if the NPP should win the December 7 Elections. However, in the victory speech of Nana Addo, he promised Ghanaians that he was not interested in witch hunting but was interested in hunting for opportunities because Ghanaians deserve better.
No Tolerance For Corruption
The Mahama administration has been accused of many corrupt activities  and deals which were uncovered by both journalists and individuals. Nana Addo recently warned people who were aiming to steal during his tenure of office not to join his government.
Reduction in High Taxes
High taxes amidst others was one of the reasons why Ghanaians booted out NDC government out of power.
Reduction in Tariffs and Utilities
One of the things Ghanaians will not forget about the Mahama administration was high tariffs and utility bills amidst the poor services being rendered to Ghanaians by the utility companies.
Opportunities for Job Creation
Certainly, every new president will talk about this but it is not always as they promise us.
The "Dumsor" Power Crisis in Ghana
The only Ghanaian that cannot remember the "dumsor" effects will probably be babies and little children.
Free Senior High School Education
The free Senior High School mantra was one of the main campaign messages of Akufo Addo during the last General Elections in Ghana but he unfortunately lose to the ruling party until the December 7, 2016 elections where he won.
Teachers And Nurses Allowance
One of the things that may lead to the loss of power of the NDC government was the politics around teachers and nurses allowance. Nana Akufo Addo promised to restore the teachers and nurses' allowance when voted into power. The teachers and nurses will be very attentive to hear this portion during his inaugural speech.
Education Sector
Almost every government tries to improve the education sector by introducing new policies to improve the sector. Ghanaians are earnestly waiting on tenterhooks to hear the Akufo Addo government policies for the education sector.
Health Policies
The Kuffour and Mahama administration did a lot to improve the health sector of Ghana. Kuffour left behind many health care policies while the Mahama administration was characterized by infrastructure projects to improve the health sector. Nana Addo during his campaign tour promised Ghanaians a lot; we are yet to hear and see for ourselves.
Private Partnership in Ghana for Development
This is certainly one of the sure areas Ghanaians will expect Nana Addo to talk about to promote business, growth and development in the economy.
Lean Government
Before his inaugural ceremony, Ghanaians were already told of some of the ministries that were created by the Attah Mills and Mahama administration will be been merged.
New Policies
This has always been the case of every new government in power. At the end of the 4 years in power, Ghanaians will either maintain you in power or vote you out based on the policies you may be working with.
Exploring Opportunities in Agricultural
Oh yes, we all know that this is too important for Nana Addo to forget in his speech otherwise, the farmers and fishermen will be very angry and boot them out of power next four years. Politicians always promise and encourage the youth to take up agricultural projects but little is always achieved in this area.
Opportunities in ICT and Technology
We are yet to hear another juicy plan to harness the vast opportunities in Ghana's digital space. We hope the NPP government and Ghanaians live up to expectation.