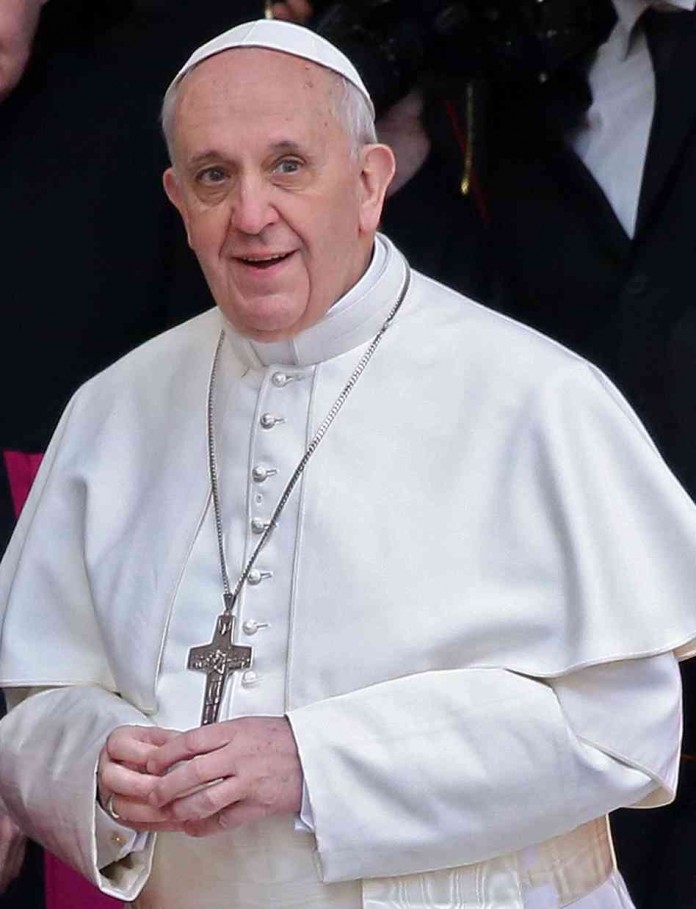 Pope Francis took three families of Syrian refugees back to Rome today after visiting the frontline of Europe's migrant crisis at a camp in Greece where migrants wept at his feet, kissed his hand and begged for help.
At a sprawling fenced complex on the Aegean island of Lesbos, adults and children broke down in tears before the head of the Roman Catholic church, after their onward journey to Europe was cut short by an EU decision to block a migrant route used by a million people fleeing conflict since early 2015.
While borders have now largely been shut for migrants, Francis symbolically took a small group of refugees with him on his aircraft as he left the island after a five-hour visit.
"The Pope has desired to make a gesture of welcome regarding refugees, accompanying on his plane to Rome three families of refugees from Syria, 12 people in all, including six children," a statement issued by the Vatican said.
The individuals were selected from lots drawn, media reports said. They had been in camps before a deal between the EU and Turkey came into effect to halt the migrant flow on March 20.
Sant'Egidio, a Christian community which offers help for those in need and headquartered in Rome, will be looking after the families.
Francis, leader of the world's 1.2 billion Roman Catholics, shook hands with hundreds of people as hundreds more were penned behind metal barriers at the Moria camp, which holds some 3,000 people.
"Freedom, freedom," migrants chanted as the pope walked through the hillside facility in scorching sun. Some women ululated.
'YOU ARE NOT ALONE'
"I want to tell you, you are not alone," Francis said in a speech at the camp. "… As people of faith, we wish to join our voices to speak out on your behalf. Do not lose hope!" he said, flanked by Patriarch Bartholomew, spiritual leader of the world's Orthodox Christians, and Greek Archbishop Ieronymos.
On at least three occasions, adults fell to the feet of the pontiff, weeping and begging for help. One woman wearing a crucifix broke through a police cordon and flung herself at Francis's feet.
"No camp, no camp," the woman, who appeared to be in her early thirties, sobbed. "I want to go."
In a tent where Francis met with migrants, a little girl with pigtails dressed in pink and white bowed at his feet. As he helped her up, she cried uncontrollably. An adult man broke down. Migrants slipped pieces of paper into his hand as Francis passed by, which he handed to an aide.
The pope has often defended refugees and urged Catholic parishes in Europe to host them. His first trip after becoming pontiff in 2013 was to the Sicilian island of Lampedusa, which, like Lesbos, has received thousands of refugees.
Hundreds of people have died making the short but precarious crossing from Turkey to the Lesbos shores in inflatable dinghies in the past year, and the island is full of unmarked graves.
Francis and Orthodox leaders later threw wreaths into the sea to commemorate those who died. They stood silently, with heads bowed, as wreaths of yellow and white flowers bobbed over the water.
The migrant crisis has added to an already heavy burden upon Greece, which has received three international bailouts since 2010.
Francis said he admired the Greek people, whom, he said "kept open their hearts and doors."
"Many ordinary men and women have made available the little they have and shared it with those who lost everything. God will repay this generosity," he said.
But religious leaders appeared less charitable towards the rest of Europe. A joint declaration by the leaders of the Catholic and Orthodox Churches cited a verse from the Gospel of Matthew, the first book of the biblical New Testament; all would be judged by their actions.
Source:timesofmalta.com