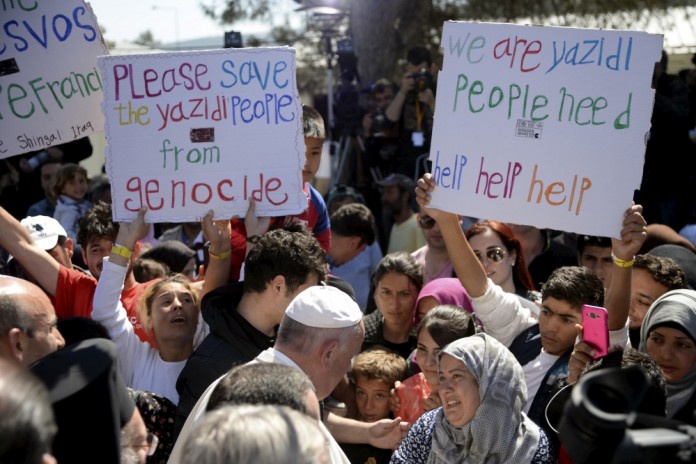 Pope Francis has called a Christian woman a "martyr" after she was brutally killed by Islamist radicals for refusing to deny her faith in Jesus Christ.
BosNewsLife reported that Francis was made aware of the case during his visit to the Greek island of Lesbos on Saturday, where he spoke with the young woman's widower.
"He is Muslim, and he told me that he married a Christian girl," the pope explained. "They loved each other and respected each other. But unfortunately the young woman's throat was slashed by terrorists because she didn't want to deny Christ and abandon her faith."
The leader of the Roman Catholic Church then called the woman a martyr for remaining strong in her faith.
While the Christian woman's name was not revealed, there have been several stories of radicals particularly from the Islamic State terror group in Iraq and Syria putting Christians to death for refusing to renounce their faith and convert to the terrorist's interpretation of Islam.
Francis, who visited the refugee island to show solidarity with the millions of refugees fleeing terrorism and war that are seeking passage to Europe, noted that many of those he saw were young children who had seen the deaths of their own parents.
"I saw so much sorrow," Francis said.
Reuters noted that the Vatican leader decided to take three families of Syrian Muslim refugees, including six children, on board his papal plane back to Rome. The families all lost their homes in the bombings in the Syrian civil war.
"Though many of their graves bear no name, to you each one is known, loved and cherished," Francis said in a prayer. "Wake us from the slumber of indifference, open our eyes to their suffering and free us from the insensitivity born of world comfort and self-centeredness."
He added, "We are all migrants, journeying in hope" toward God in Heaven.
Francis, who was joined by leaders of Eastern Orthodox Christian churches in his visit to Greece, explained they came together "to call the attention of the world to this grave humanitarian crisis and to plead for its resolution."
Greek prime minister Alexis Tsipras, one of Europe's first openly atheistic leaders, greeted Francis on Saturday morning, praising the pontiff's gesture in hopes it will help relieve a part of the refugee crisis in Greece.
Tsipras said he is proud that Greeks are still welcoming in refugees, while other countries are closing their borders.
"I am proud of this, particularly at a time when some of our partners — even in the name of Christian Europe — were erecting walls and fences to prevent defenseless people from seeking a better life," he told Francis. "That is why I consider that your visit is historic and important."
Source: christianpost.com
Recommend Stories For You:
1. Islamic Terrorist Hunted Pastor to Kill Him But Jesus Christ Blocked His Plans.
2. Top 17 Indiscipline & Annoying Things People Do in Church