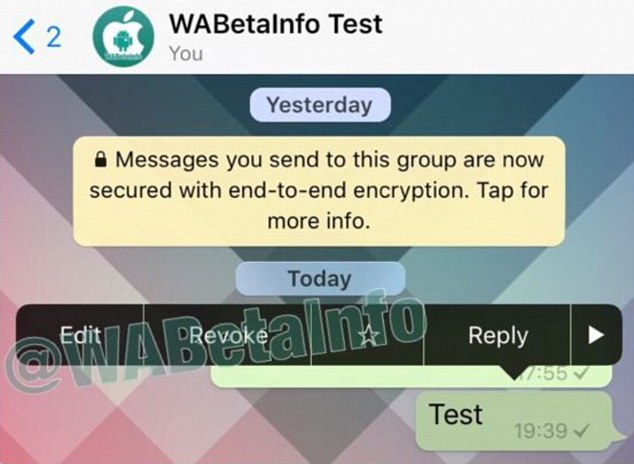 COMING SOON – How To Edit And Delete WhatsApp Messages After You Have Sent Them
You will soon be able to edit and delete your WhatsApp messages AFTER you've sent them – but only if they haven't been read yet
WhatsApp is the biggest messaging app in the world with over a billion users. Reports suggest the app is trialling the update in its iOS beta software. The Facebook-owned firm has not yet officially confirmed the new features
Almost everyone has wished that they could delete a hastily sent text message at some point.
Now, messaging app WhatsApp is reportedly adding the ability to do just that.
However, an update to the Facebook-owned app will only let users recall a message before it has been read by the recipient. WhatsApp appears to be trialling the new feature in its iPhone beta software, according to an image posted on Twitter by@WABetaInfo.
A screen shot of the the new feature was posted along with the words: 'WhatsApp is starting to work on editing messages (DISABLED BY DEFAULT) #whatsappbeta'.
This suggests that the feature is initially disabled and that users of the beta software currently have to find and activate it for themselves.
When users hold and press on a message, the new update is said to present them with two options – 'Edit' or 'Revoke'
The first will enable the user to update the content of their message, while the second will enable them to recall it completely.
WhatsApp has not officially confirmed the new feature.
Facebook-owned WhatsApp is the most popular messaging service in the world and currently has more than one billion users.
Last month, the app officially launched video calling to worldwide users on iOS, Android and the Windows Phone.
In keeping with WhatsApp's data security standards, the new video calling feature is fully encrypted, protecting calls from being listened into. This week, EU regulators charged Facebook with providing 'misleading' and 'incorrect' information during its £15.4 billion ($19 billion) takeover of WhatsApp in 2014.
They claim that Facebook 'intentionally or negligently' submitted misleading information which went against EU merger rules.
If the charge goes through, it opens Facebook to a possible fine of one per cent of its turnover, or £100 million ($125 million).
WHATSAPP'S DATA SHARING 
WhatsApp, acquired by Facebook in 2014, said it would share user data with its parent company to better fight spam and improve users' experiences of both services.
The move was a subtle but significant shift for the messaging app, which has long promised to safeguard the privacy of more than one billion users around the world.
In September WhatsApp started 'coordinating' accounts with Facebook by sharing users' mobile phone numbers.
The two share device information, such as the type of operating system and other smartphone characteristics.
Facebook uses the phone number internally to better identify WhatsApp users on Facebook.
This means it can recommend friends or show targeted advertising.
The ads come through a Facebook program called 'Custom Audiences'
Source: dailymail.co.uk