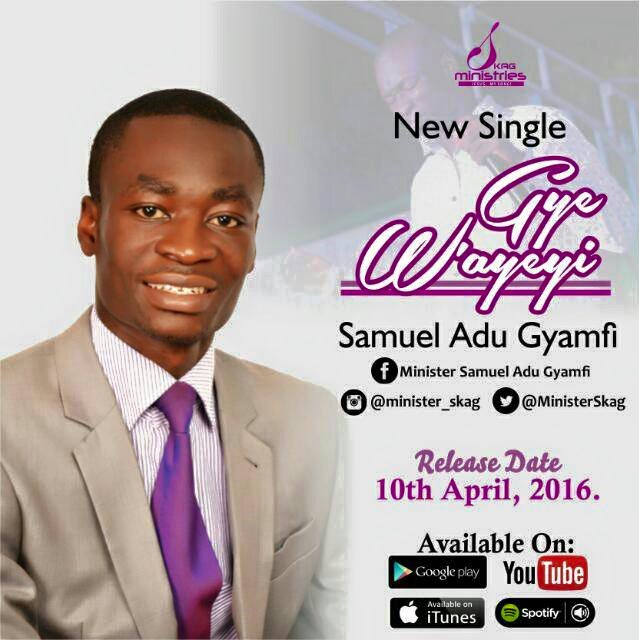 "He put a new song in my mouth, a hymn of praise to our God. Many will see and fear the LORD and put their trust in him" – Psalm 40:3
With the scripture above as evidence, He's got 100% assurity that the source of his songs is from God. In fact, God is the SONG himself therefore we sing Him, we sing for him, we sing about him and we sing with him.
This has birthed the yet to release GYE W'AYEYI (Receive thy praise) by Samuel Adu Gyamfi.
GYE W'AYEYI was received from God out of a personal worship session in a bath tub at exactly 4:30am while preparing for work. It was motivated by the facts of God's goodness and faithfulness shown to him since childhood.
Samuel Adu Gyamfi recounts how he entered the tertiary institution in January, to study an HND program in Journalism and marketing just a year after he had completed SHS. Some of his colleagues at the time were still awaiting to gain admission to the university.
While doing National Service some of his colleagues were still in school and others also still at home writing remedials.
He shortly gained admission into the University and before he graduated he had gained an employment with MTN Ghana.
He sees all these as blessings and as he was recounting these struggle free blessings and with no breaks while climbing the academic ladder, he decided to worship God and in the cause of worship received the Song GYE W'AYEYI.
If there's anyone available to receive the praise for such a miracle then it is the LORD.
Samuel Adu Gyamfi is an Elder and a Praise and Worship leader at the Pentecost International Worship Centre (PIWC) – Kasoa.
He loves to be in the house of God and is very much involved in Praise and worship services.
He is the Eldest of four Kids to Rev. Benjamin and Mrs Alice Gyamfi who are both ministers of the Church of Pentecost.
He started singing in Church at the age of 8.
With his love for the things of God and passion for ministry, he became the Music and Drama Director for the Pentecost Students and Associates, (PENSA) Pentecost University College, Accra. He is also the founder of the Pentecost University Campus based Soul Train Incorporated which aims at winning souls for Christ through music.
This Ministry granted him the grace to share ministering stage with Joe Mettle, Naa Sinclare, Pastor Dzifa, Mark Opoku, Quesie Boate, Braa Kwaku and many other seasoned ministers in our generation.
Samuel Adu Gyamfi is set to release a new single dubbed "Gye W'ayeyi (Receive thy praise) on 10th April 2016. This song will from 10th April be available on GooglePlay Store, YouTube, Amazon, Spotify, and over 50 other music online application stores.
Samuel Adu Gyamfi believes Worship is a Holy Business and Only the Holy can go deep in worship and fellowship with the Holy God. He sees this single as a call on believers to give God all the praise he deserves no matter their circumstances. Samuel holds a Bachelor's Degree in Marketing from the Pentecost University College.