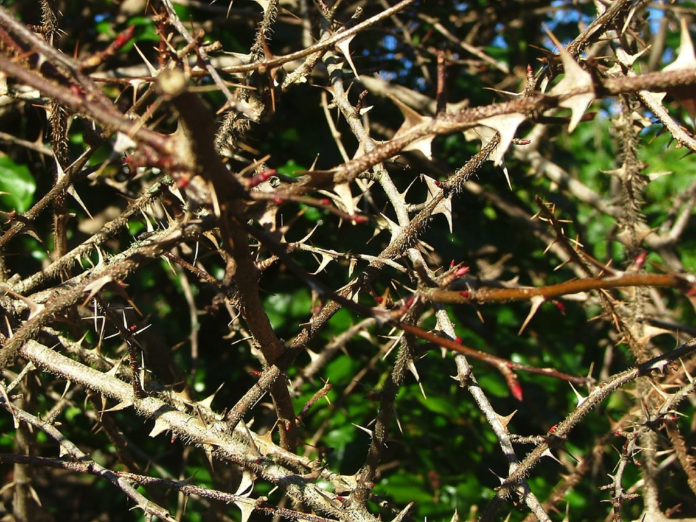 Have you ever met someone whose life is like a thorn in your flesh and anytime you have an encounter with the person, it's normally full of regret and pain? Have you ever met someone and anytime they try to do good to you, it always end both of you in pain?
Over the years, I have come across a lot of people with varied character, religious beliefs, personal philosophies, experiences and a lot of virtues and values that make up the totality of a person's personality. I have discovered that meeting some kind of people and being with them is hell. In fact, these people are like thorn bush and one has to avoid such people.
To those thorn bush people,
Give them a hug – they will pierce you to your heart.
Give them a friendly handshake – they will hurt you.
Lean on their shoulders – they will pierce and increase your pains and tears
Characteristics of People Who Are Like A Thorn Bush
 Thorn bushes have thorns all over by nature:
Meeting and living with people who are naturally incompatible with you no matter how much you try is hell. The one who befriends a snake or a scorpion should always expect a deadly bite for a friendly hug or handshake. People like that are naturally there to destroy and cause pain. The best thing to do is to avoid them.
It's their nature to pierce
In life, you are responsible for determining who qualifies to be in your life and who doesn't qualify and needs to be kept at arm's length. You have to know who you are and who you can accommodate in your life to either complement or complete you. You do not need people whose life suck. They will deplete your energy and destroy your happiness until you come out from such relationship. The best thing to do is to avoid them.
They provide security / hedge:
Thorn bushes are normally used as hedges to provide security. People whose lives around you are like thorn bush sometimes provide you with security despite the pains they may cause you.
They offer help with thorns
It will interest you to know that some fruits have thorns around them and on the tree itself. It is very dangerous to harvest the fruits of fruit bearing thorn bushes. Any offer people who are like thorn bushes will offer you seems like a trap that will keep you fixed on the hook.
Regardless of how these people, who are indeed like thorn bushes, it is possible to still live with them and be happy. In life, you just have to know who you can feel comfortable to be with and be happy being with.
Remember, Romans 12:18 says that if it is possible, as far as it depends on you, live at peace with everyone.
Have you ever experienced or encountered people who are like thorn bush? Share your experience by commenting